A 9-day expedition log through Haida Gwaii's Islands of Beauty
Gwaii Haanas July 3-11, 2018
Crew: Captain Russell Markel, Deckhand Oriana Smy, Expedition Chef Erin Vickers, and Onboard Specialist:Graham "Jaahljuu" Richard
Disclaimer: Each day aboard the Passing Cloud is very full: full bellies, smiles, heads/hearts, and memory cards. An indeterminate amount of time and space is required to digest each and every moment, some which may present themselves as memories in later times. Please read with caution. Nostalgia and wanderlust may ensue.
Day 7: July 9
Waking up in Woodruff Bay looking out towards Cape St. James is something not many get the pleasure of experiencing. We were rocked to sleep by light rolling swell, with nothing but the open Pacific and Japan to our far west. We have breakfast on the aft deck under the morning sun, looking out to the white-sand infinity beach, remembering fondly of our previous day's adventures. Our imaginations run wild knowing there are Japanese glass fishing balls out there just waiting to be found.
We weigh anchor to flat calm seas.  Off in the distance, we see a flock of birds indicating a 'bird bait ball'. As we approach we realize the group is majorly made up of massive bald eagles, along with a mix of seagulls, cormorants, shearwaters and many more, all coming to feast at the bait ball buffet. As the herring and other small fish rise to the surface, shorebirds pick them off, as whales, seals, and sea lions cooperatively feast from below. A minke whale surfaces, gorging on the bite-size morsels of nutrients. After waiting for it to surface again, the bait ball moves south towards the Cape and we continue on our way again, northbound in the opposite direction.
We motor in less than a knot of breeze and try to raise the gennaker. For a short while, we have a small amount of success, although it doesn't last long. After flying the big red kite for a couple of miles, we douse it with the sock and stow it away for any amount of light wind we might be offered.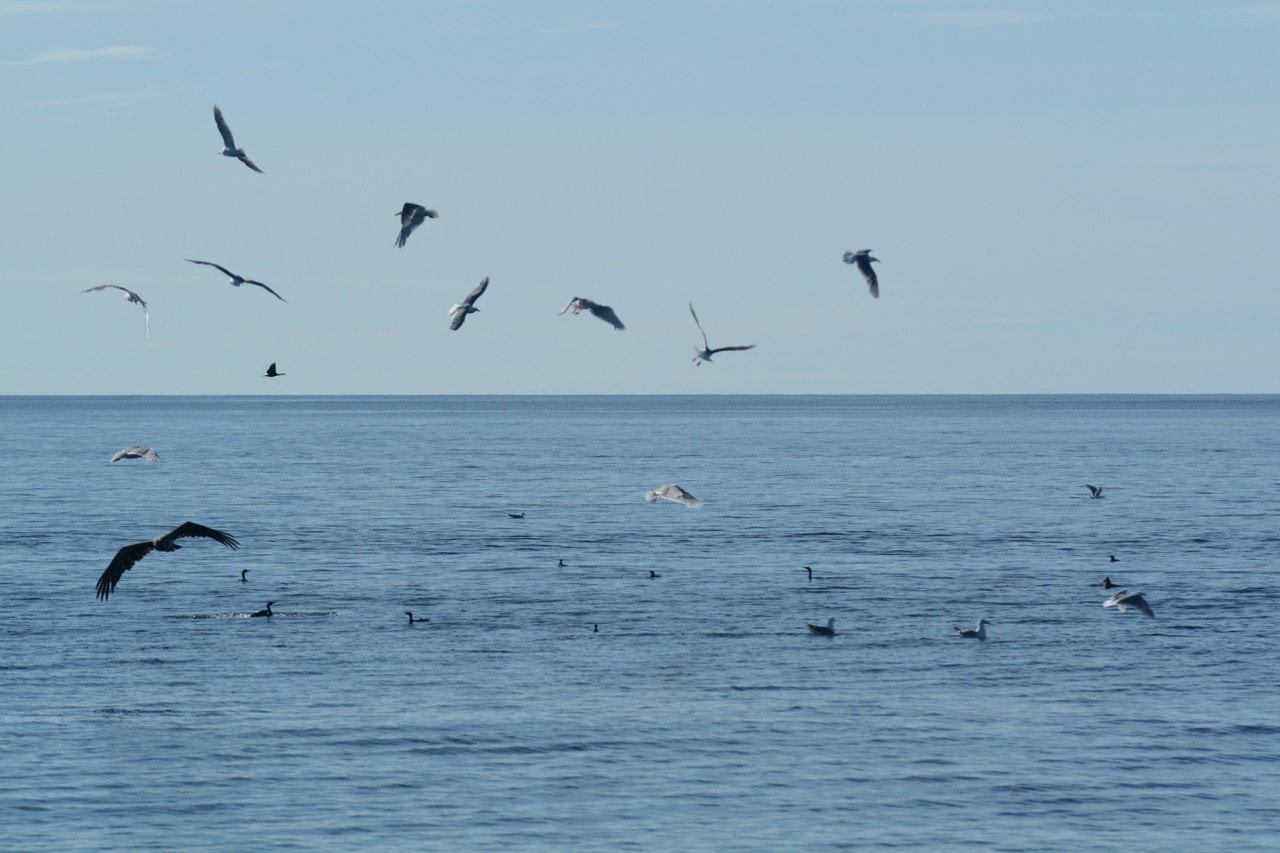 Chef Erin has prepared an incredible lunch of local Haida Gwaii chicken, served with lentils and fresh tomato. We arrive to George Bay, an incredible place of ancient history. We walk up a winding creek to find 1,100-1,500-year-old fish stakes along the riverbed (Gow Gai = Fish trap in Haida). It's incredible how preserved they are from being submerged in anaerobic sediment. This method of catching fish was so intricate, lining two streams with obvious multilayers.
There's evidence in other areas that the Haida would set up fish ladders to produce optimum spawning grounds. They were creating a net positive, sustainable resource for generations to come. This is how they would provide for their families for the next 10,000 years.
Think about that for a minute…
After walking along the clam gardens and exposed paleo-layers, we make our way into the mossy forest where a more recent village site would have been, perhaps only a mere 200 years ago. No obvious evidence remains today apart from some tantalizingly square platforms, where probable structures would have stood.
We all lay down on the mossy understory and take a few moments of silence and find our space within nature; a moment to reflect on what we've just witnessed and where exactly we are in both place and time. My mind is spinning thinking about the ancient civilizations that were here so long before us. I get up and walk around and explore the forest a little deeper. I find a massive cedar tree, which appears to be a very old culturally modified tree with a large scar from the base all the way up 50 or 60 feet, now seamed back together after years of growth. 4 massive trees stand in formation around a peculiarly square, flat open forest floor. Most likely marking the corner posts of a house, left to feed the saplings of the now giant spruce trees.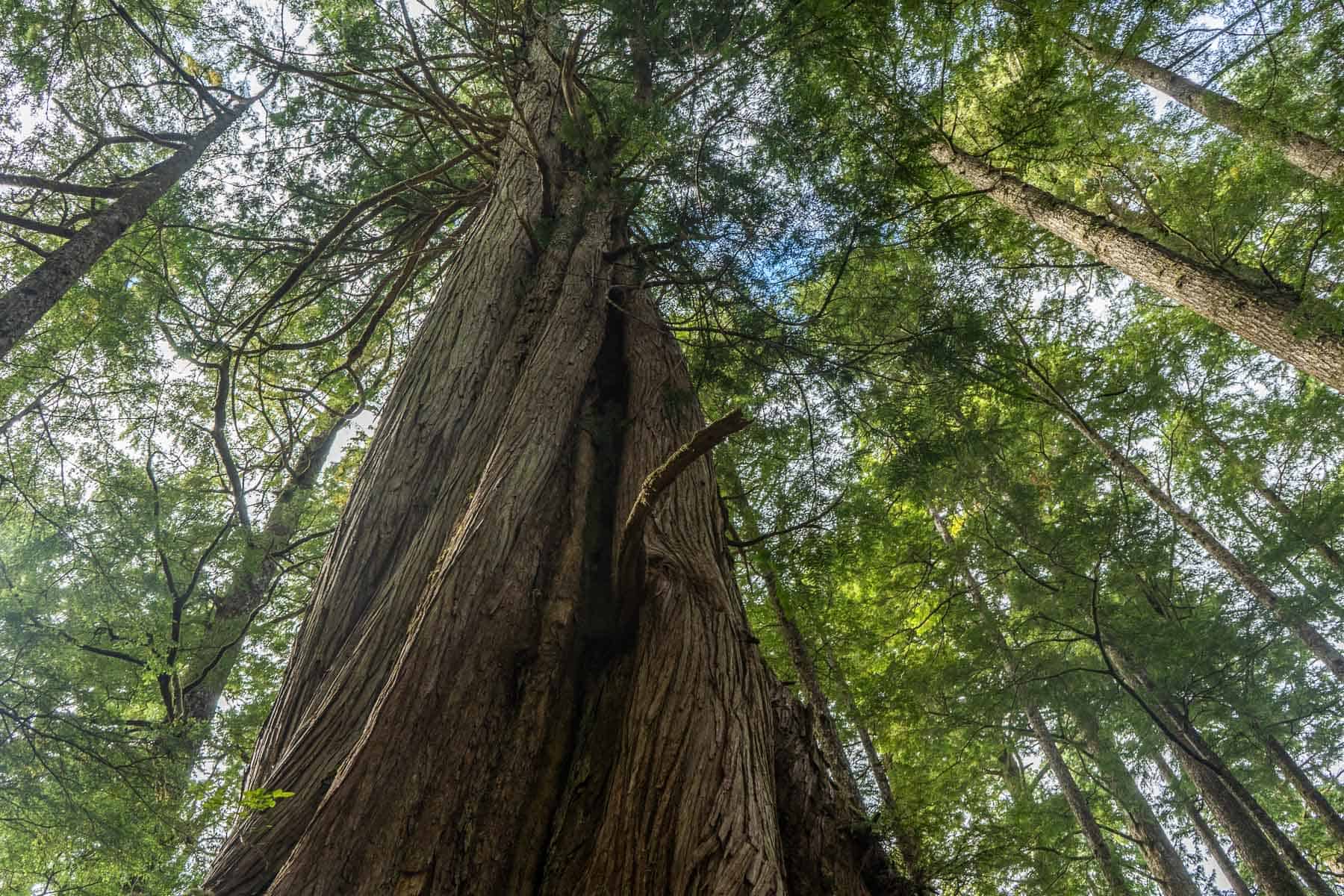 We make our way to the beach and find Graham has discovered an eagle's nest – massive with full fern fronds sticking out in all directions. The birds were making a particularly strange call, one none of us had ever heard before. Graham had come across a young eaglet on the forest floor, next to a white bed of eagle down, too young to fly and clearly had fallen from the nest above. We leave them to reconnect with the fledging bird and hope for the best for its survival.
Back aboard the Passing Cloud we make our way, just so slightly north to Bag Harbour, an immediate favourite spot with glowing green trees lit by the sun, fried egg jellyfish floating by, and a lone bald eagle circling overhead against a bluebird sky.
We eat dinner below in Passing Cloud's cozy salon. Chef Erin starts us off with what she calls a bird's nest appetizer: an onion sous-vide with speckled quail's eggs to go with our theme of birds today.  For our main dish, also sticking to the theme of our avian friends, we have duck with beet purée and leeks. We nestle in for a chart chat to mark the vast distance we've come so far and reflect on all of the incredible faces and places we've met along the way. In the morning we'll go ashore and explore the bog to discover another microclimate of biodiversity.